Resources
Outreach

Places that might help with foster, adoption, etc.


- Cats Are My Love - (407) 927-18782
- Helping Paws Humane Society - (407) 855-9417
- A New Beginning Pet Care and Rescue - (407) 251-54584
- Pet Rescue by Judy - (407) 302-44975
- Rescuing Animals In Need (RAIN) - (407) 620-9736
- Cat Protection Society (CPS) - (352) 589-6228
- Candy's Cats - (407) 760-2052
- The Way Home, Inc. – (407) 405-3701
- Orange County Animal Services Division – (407) 386-3111
- SPCA of Central Florida (Orange County Location) – (407) 351-7722
- SPCA of Central Florida (Seminole county Location – (407) 323-8685


Places that might help with pet food: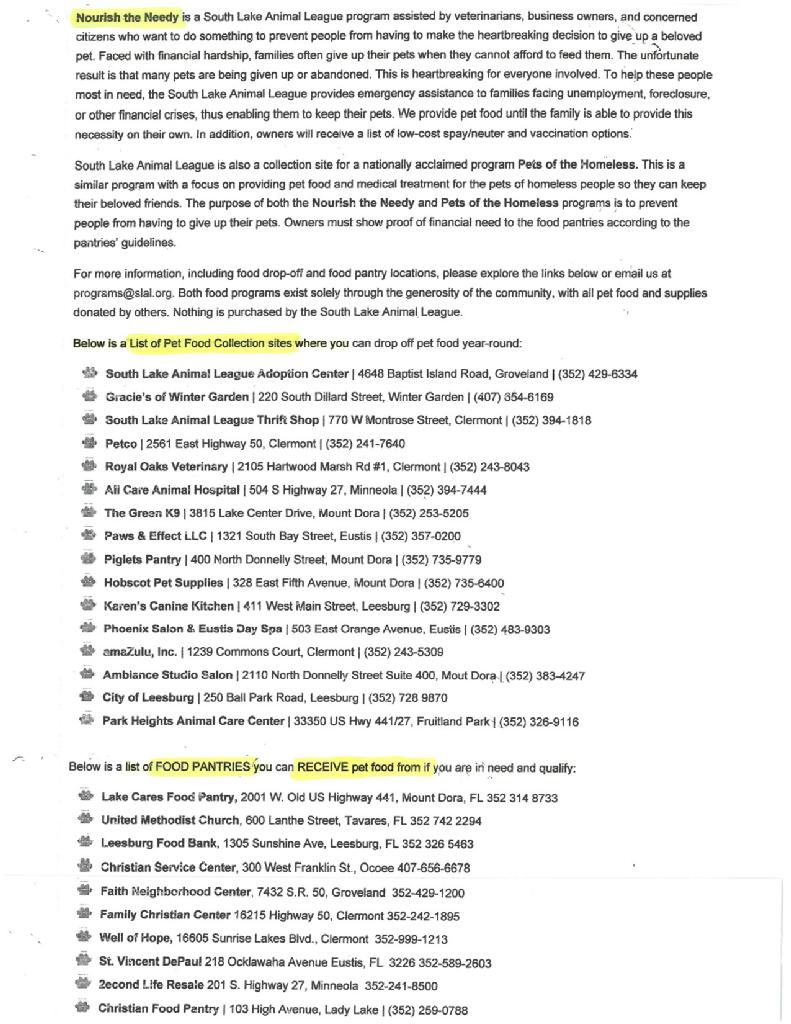 Low-Cost Spay / Neuter Clinics
Marion, Lake and Sumter Counties
Marion County Animal Services

5701 S.E. 66th St., Ocala, FL 34480
Phone: (352) 307-1351
Website: www.marioncountyfl.org/AnimalCenter/neuter_commuter.aspx

Offers low cost surgeries at the animal shelter for all county residents either at the shelter or through the Neuter Commuter. Call the Neuter Commuter to schedule all appointments.




Humane Society of Marion County


701 N.W. 14th Road
Ocala, FL 34475
Phone: (352) 873-7387
Website: www.humanesocietyofmarioncounty.com/

Certificates are available for purchase at the shelter and may be redeemed at local participating Veterinarian offices with no additional cost for the alteration procedure.




Marion County Neuter Commuter (mobile clinic)


Ocala, Marion COUNTY RESIDENTS ONLY
Phone: (352) 307-1351
Website: www.marioncountyfl.org/AnimalCenter/neuter_commuter.aspx

Cats Female/Spay+ Male/Neuter: * $5-$25
Dogs Female/Spay + Male/Neuter: * $5-$25
*$5.00 spay / neuter fees might be available with proof of low-income OR government assistance





Humane Society of Lake County


16435 McKinley Road, Umatilla, FL 32784
Phone: (352) 589-7400
Website: www. humanelake.com/the_spay__neuter_program

The Humane Society will provide a certificate to spay or neuter your pet at a reduced rate. The certificate is honored by many local veterinarians.



Misfits


220 N. Rockingham Ave, Tavares, Fl 32778
(352) 742-0690
Website: www.misfitclinic.org

Low cost spay and neuter clinic.
You've Got a Friend Low Cost Veterinary Clinic, LLC.


712 Anderson St., Mascotte, FL 34753
Phone: (352)429-0070




Humane Society/SPCA of Sumter County, Inc.


994 CR 529A / PO Box 67
Lake Panasoffkee, FL 33538
Phone: (352) 793-9117
Website: www.hsspca.org/thebixfix.asp

Offers the Big Fix low-cost spay/neuter clinic for companion pets only at their shelter. Must be a resident of Sumter County to participate in the program.




Sheltering Hands


P.O. Box 843
Williston, FL 32696
352-817-0663
Website: www.shelteringhands.com/Trap-Neuter-Return-Information.html

No cost spay/neuters are provided to feral colony caregivers in Marion County as part of their Community Cats Program. Caregivers must register with the organization and attend at least one feral cat workshop annually.




Cares Center


735 E. CR 470, Lake Panasoffkee, FL
Phone: 352.568.9994 Email: cares1@centurylink.net
Website: www.carescenter.com/index.htm

Spay/Neuter Surgeries are scheduled every Tuesday & Friday by appointment only.

Pricing:

- Neuter a male cat is $25; a female cat spay is $30.
- Dog neuter starts at $40; a dog spay starts at $45 and goes up according to weight.

Walk-In Shot Clinic every Tuesday, Thursday & Friday from 10AM - 2:30PM.

No appointment necessary for shot clinic and no office charge!



Orange and Seminole Counties
South Lake Animal League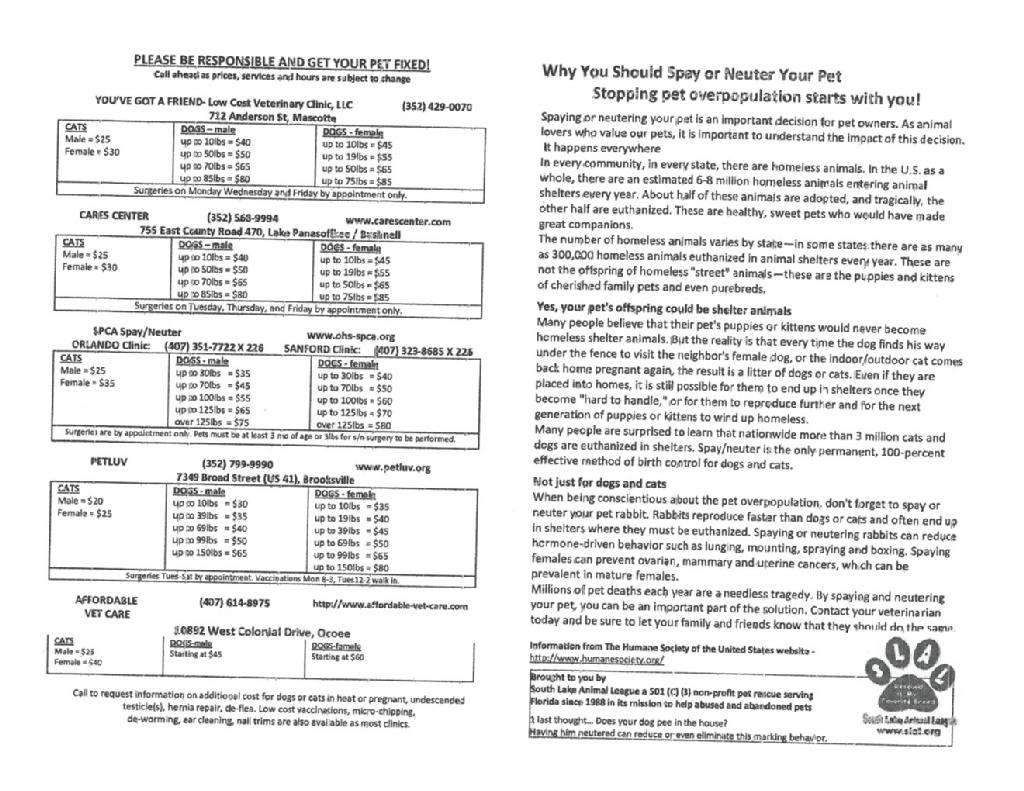 CARE Feline Rescue
P.O. Box 4552, Winter Park, FL 32792
Phone: (407) 522-2617
website: www.carefelinetnr.org/index.html

They work in conjunction with Orange County Animal Services to offer free spay/neuter and vaccines for feral and abandoned cats in Orange County. Call them for complete and current information and to make an appointment.



Orange County Animal Services Division


2769 Conroy Road, Orlando, FL 32839
Phone: (407) 386-3111
Website: www.ocfl.net/AnimalsPets/SpayandNeuter.aspx

They offer two low-cost programs for county residents. They have a clinic at the shelter and a mobile clinic as well. They also offer free surgical services to qualified low-income residents.




SPCA of Central Florida (2 locations):



2727 Conroy Rd., Orlando, FL 32839
Phone: (407) 351-7722

2800 County Home Rd., Sanford, FL 32773
Phone (407) 323-8685

Website: www.orlandopets.org/spay_neuter.htm

They have low-cost spay/neuter clinics at both shelter locations. Please check their website for each clinic's operating schedules.



Spay N Save


988 N. Ronald Regan Boulevard, Longwood, Florida 32750
Phone: (407) 920.4894
Website: www.spaynsave.org/
Appointments Required / Call for current pricing

Cash and most credit cards accepted.

- Cats and dogs must be in reasonable good health. Kittens must be at least 2 ½ lbs. Kittens under 12 weeks will not receive a rabies vaccine.
- NO food after midnight the night before surgery. Remove all food dishes by midnight the evening before.
- Feral cats must be in a humane trap.
- Dogs must be on leash.
- Each cat needs to be in their own carrier or humane trap and a towel needs to be in each carrier. You may bring a towel to put in the trap after surgery. No litter boxes or bowls in carriers or traps, please.




Private Vets


CARE CONTRACTED VETS THAT OFFER DISCOUNTED SERVICES TO CARE CAREGIVERS




All Creatures Animal Hospital


5745 Pershing Avenue, Orlando, FL 32822
Phone: (407) 277-6027
Colleen - Office Manager / Dr. Kim – Vet

Pricing: $30 Neuter, $40 Spay + $25 if in heat ($65) + $30 if pregnant ($70) $10 FVRCP, $12 Rabies, $25 Combo Test

NO REFERRAL FROM CARE IS NEEDED WHEN CAREGIVER PAYS. If caregiver is paying they must speak with Colleen and tell them they are with CARE to receive rescue discount.

Hours 9-6 Drop off 8-10 Min age 4 months/4 lbs CATS CAN BE FERAL(Prefer in a trap) OR FRIENDLY RESCUES



Altamonte Veterinary Hospital


1089 E. Altamonte Drive, Altamonte Springs, FL 32701
Phone: (407) 339-1922
Tricia - Office Mgr Shane/Lindsay - Front desk / Dr. Larkins – Vet

Pricing: $22.50 for Neuter $30 for Spay $10 Rabies $6.50 FVRCP Add'l Charge: $10 for In Heat and $ 25 pregnant

Drop off between 7am-7:45am and pick up between 5pm-6pm day of surgery verified 2/7/11

CATS CAN BE FERAL (Must be in a trap) OR FRIENDLY RESCUES – Pricing: $27.50 Combo Test, $9.50 Feline Leukemia Vaccine, $2.50 Ear Tip (Preg = $74 as per all info provided here) Kittens - will fix females at 3lbs. Will neuter at 2lbs.



Piedmont Animal Hospital


783 Piedmont Wekiwa Road, Apopka 32703
Phone: (407) 880-7387
Theresa - Office Mgr / Dr. Maureen Burton – Vet

Pricing: $49 Neuter or Spay (including pregnant or in heat), FVRCP, Rabies, Ear Tip included in price.

Drop Off: 7:30 They will call you to pick up – CATS MUST BE FERAL AND IN TRAP NO REFERRAL IS NECESSARY - MENTION CARE & FERAL PACKAGE - NO fax authorization required from CARE.



Michigan Street Hospital


1201 W. Michigan St
Phone: (407) 648-2247
Tina Bittner - Office Mgr / Dr. Mansour - Vet

Pricing: Caregiver Is Paying: $35 Spay, $25 Neuter, $12 FVRCP, $13 Rabies, $38 Combo Test - in heat or early pregnancy, no price change. If about 4-6 wks along, could be approx $40 more for abortion.
**If close to birth date, will not abort
Drop Off: 8:00-9:00 MENTION CARE referred, NO fax authorization required

Pick Up between 3:00 – 4:00 p.m.




Affordable Vet Care


10892 W. Colonial Drive, Ocoee, FL 34761
(Located in the shopping center behind Twistee Treat)
Dr. Fine – Vet

Pricing: $25 Neuter; $40 Spay (including pregnant or in heat), $10 Rabies, $16 FVRCP, $16 Leukemia, $20 Combo Test.





Please check out
www.flaspay.com

for additional Counties that offer low Cost Spay and Neuter Services